Takeoffs and estimating with PlanSwift

PlanSwift is an easy construction takeoff & estimating software program that makes doing takeoffs a snap, just point-and-click!
Here are some of the main features: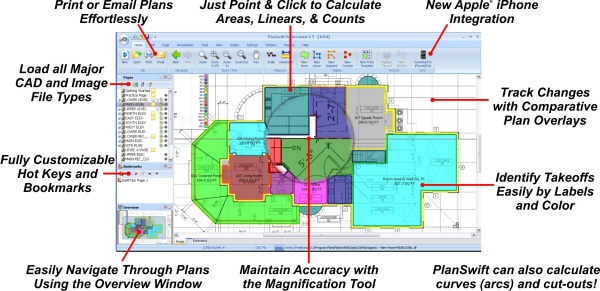 How to download plans into PlanSwift
1. Setup a planroom account & login
If you haven't already, you will need to register for a planroom account. Make sure you are logged into your account.
2. Download PlanSwift free trial
Download the free 14-day trial of PlanSwift and install it on your computer.
3. Find files to download
Browse our Public Jobs or enter a Private Job key if you have one. Click on a job, and then the View Plans tab at the top.
If this job allows downloading, you will see download icons either at the top of the list of files, or on the right side of each file.

4. Click the download buttons to add to your Download Queue
Click on the download buttons, and you will see your files added to the Download Queue on the left side of the page.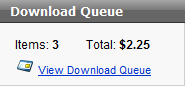 5. View your Download Queue to review and proceed
After you have finished adding all the files you need to the Download Queue, click the "View Download Queue" link to review the list of files you are downloading.

If there is a total amount due, click "Proceed to Payment" to pay for your files. If a charge is not applicable, then you will be able to "Proceed to Download" directly.
6. Download the SwiftImages file
Once your download is prepared, you will have the option to download a ZIP file, or directly to PlanSwift.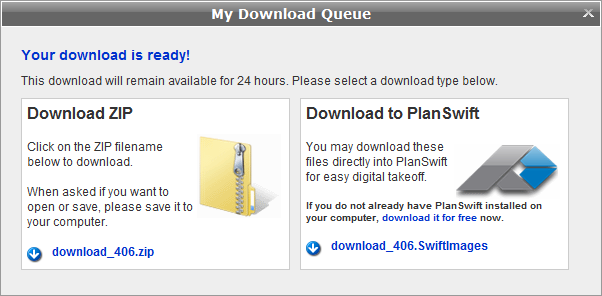 To open in PlanSwift, click on the SwiftImages download file. Your browser will prompt you to save the file, which you can then open. PlanSwift will launch automatically on your computer and import the files that you just downloaded.
That's it!
You will receive an email confirmation for your download, with a link to re-download within 24 hours if needed.